This majestic property is over 2.75 acres of landscaped beauty. There is more white sand on this lot than any in all of the keys! The palm trees are some of the tallest as well and their graceful presence puts you in the Jimmy Buffett mode as the cooling Atlantic Ocean winds blow your hair and alleviate the heat. Our enclinata is the biggest in the keys and 60 years old!
When you relax in the pool, the view of Alligator Reef Light on the horizon and the boats going by providing a backdrop while sipping your margaritas. Never worry about a crowded beach or people kicking sand on you while you sun yourself. Swim in the crystal blue water or stay on top with our kayaks and paddleboards for exercise.
Since there are some great restaurants and bars very close, you can simply bike to them if you don't want to drive and worry about parking. Proximity is key as you are in the heart of Islamorada and very close to everything you need.
Learn about our weddings here: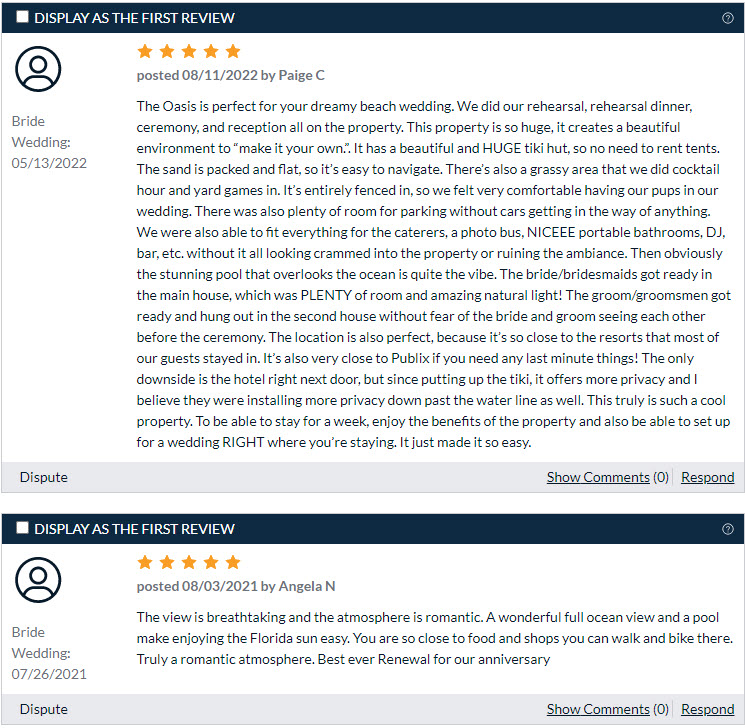 This rental used to be called H2O years ago and had weddings almost weekly. It was also used as a place for photoshoots for many publications. Luxurious, majestic, and breathtaking are just some of the many adjectives used to describe the ambiance of this property.